Our Old West Town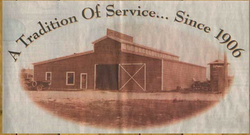 Our Redmond store is housed in a turn of the century lumber store and yard that dates back to 1906. It was once Tumalum Lumber Company. We have remodeled the warehouse sized area of the store to house our "old West Town" It was once the area where dimensional lumber was stored, and horse drawn wagons would drive in one end, load up and drive out the other side.
---
We love the space!! We have sectioned off the large area into large vignettes arranged by theme... It is ever changing, but currently we have a tack room, or "Livery", a tool room, a military room, an automotive area, a bar area, a gazebo with wonderful garden elements, a shabby chic room, a general store, complete with vintage camping gear, and a vintage toy store. The old West town also plays host to a huge selection of vintage doors and windows, screen doors, vintage bed frames, and a cool selection of other elements waiting to be up cycled into your favorite pintrest finds!!

Our Tumalo store building was built in the 1980's as a Community Marketplace, serving the small but close knit community of Tumalo. The building has been many different things over the years; a Dance hall and dinner theater, an artists cooperative, a furniture store, Breedlove Guitars, and now, it is home to Beyond The Ranch Antiques.

We love the super high ceilings...and we are using them to their fullest potential! We currently have a fantastic collection of RC and model airplanes and boats suspended in mid-flight. We have a amazing forward thrust - trench art boat made during the WW2 era, a hellcat plane replica with a wingspan of a good six feet hanging from the ceiling along side of a 1915 French Fighter...it's a cool collection, one you must see to appreciate.

We also have a talented staff that does custom builds and special orders from your favorite photo
or that cool idea that keeps you up at night!